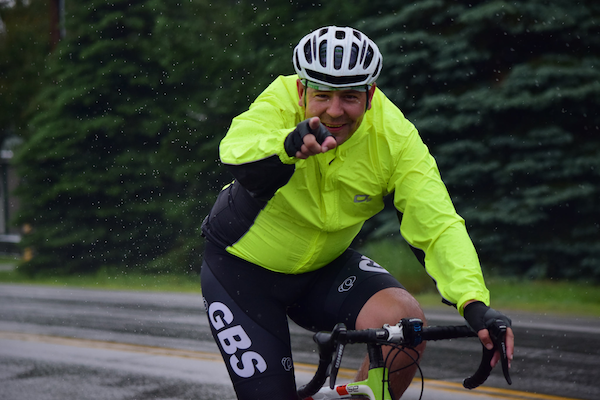 The Trans-NH bike ride has a rich history that began in 1988. The ride (and riders) has seen it all —
from snow, rain and headwinds to blistering sunshine.
The ride has challenged both the swift and the steady, and all come away from it with a sense of accomplishment that's different than that from just "any" bike ride.
Friendships are renewed every year with those who wouldn't think of missing this ride. Just ride it once and you'll see  why people return year after year. The cause, the camaraderie, the support and the challenge make the Trans NH Bike Ride a very special ride — unlike one you'll find anywhere else.
The following was written by one of the ride's founders and it gives a sense of the commitment this ride engenders . . .
---
How it all Began
Bicycles, Boots and the Meaning of Life
by Kevin Campbell – 1994
Bicycles. You remember — those two-wheeled marvels that transitioned you from strollers to a drivers license. Yeah, I know some of you still ride bicycles for pleasure or exercise and if you do you will appreciate this article. If you don't, well, maybe it will at least spark some interest.  But bicycles are not what this is all about. This about challenging yourself to reach your physical and emotional limits while committing yourself to defeating a variety of diseases more commonly known as Muscular Dystrophy.
I'm really not sure how it all began. I have some vague recollection about a group of us (fire fighters that is, the only group that has pledged to support the Muscular Dystrophy Association until the diseases are cured) sitting around Salem's Central Firehouse after a "boot drive" wondering if we could raise money for the MDA by bicycling the length of New Hampshire – Canada to Massachusetts. It seemed like a good idea, but none of us knew what it would take and whether we could even make the trip. Being curious by nature, or foolish, both considered common in fire fighters, in late August of 1988 nine fire fighters (8 riders and one support) and two citizen support volunteers headed for Canada. With great expectations, mounting apprehension, and questionable equipment we prepared ourselves to attempt the first, of what will be seven this year, Trans New Hampshire Bike Rides for MDA.
Even though it was August, the morning we left Pittsburgh, New Hampshire on our bikes we first had to scrape the frost off the windows of the support vehicles. We had little sleep the night before as the nocturnal creatures of the north country (four legged and two legged, I can't say furry because they all fit that category), whom graciously allowed us to share their cabin, were apparently unimpressed by our ambitious plan and endeavored to entertain us all night. The trip lasted three days. The second and third days of the trip were for the most part enjoyable but uneventful. It is the first day of that first trip that will never be forgotten by the eleven souls who experienced it.
As I said earlier, it was cold, but at least it was not raining … yet. We climbed aboard our bikes for the first leg of what would become a life altering experience. Just south of Colebrook it started to rain, but at least there was no wind, again&ldots;yet. The logging trucks heading into Groveland were passing so close we could feel the heat of their exhaust stacks and were blinded by the spray from their tires. Soon the wind began to whip the rain. We even began looking forward to the logging trucks as we would be momentarily pulled along in their wake. The conditions continued to deteriorate. As if the enormous hills of Lancaster and Whitefield were not enough, we were forced to pedal as hard as we could, in our lowest gears, downhill, or come to a complete stop! By the time we reached Twin Mountain, the rain was driving so hard that it actually stung our faces and forced us backwards.
Now, it is certainly rare when you get right down to the very depths of your soul, stripping away all of the useless baggage we carry with us and get right to the essential question; the meaning of life that is. But when every muscle in your body is sore and cramped, you are hypothermic, totally exhausted, emotionally battered, and facing the unbridled cruelty of Mother Nature with 20 miles to ride on a bicycle to complete your objective, it is the next natural step. We stopped in Twin Mountain and took refuge from the storm in our support crew's motor home. There, as a group, we contemplated many options, most included quitting. An hour passed, the storm continued to rage outside and finally it occurred to us that what we are facing was truly insignificant compared to what the children with Muscular Dystrophy face everyday of their sometimes brief lives.
Ron Gale was the first to stand up. Followed by myself, Dennis Covey, Fred Doucette, Anne (Porier) Goucher, Al Tisbert, Tom Laycock and Kevin Breen. We had not come this far to quit now regardless of the circumstances. Encouraged by our support crew, Gary Buchan and Doug and Jean LaCourse, we left the secure shelter of the motor home. As we mounted our bicycles Mother Nature must have sensed that at that moment we were invincible and that nothing was going to stand in our way including the very worst she could conjure up. She smiled upon us. As we headed up the main street of Twin Mountain the wind suddenly shifted to our backs. We were literally blown to Franconia, a 9 mile stretch nearly all uphill all the way. We entered the Franconia Notch bicycle trail and our spirits were soaring as we flew through the narrow winding trail at speeds approaching 40 MPH! Under the conditions, wet hot top, trees down, extremely slippery wooden bridges, and unknown territory, why none of us were killed still remains a mystery.
We rolled into Lincoln, our destination. In the fading light of a most extraordinary day we strained to see our odometers….102 miles flickered on the display! We were invincible! We made our way to a condominium Salem Fire Marshall Mike Roberts has arranged for us to use for the night. He had prepared us a most excellent (and hot!) spaghetti dinner and after some Ben & Jerry's "Chunky Monkey" we were our for the night. Even though many of us had to sleep on the floor, we all agreed the next morning that we could hardly remember ever having a more satisfying and refreshing night's sleep.
We flew through the next two days and arrived in Salem to a victory party that left us all emotional. Our families, friends and fellow fire fighters were there, as well as our inspiration, MDA Poster Child Danny Hebert, a little boy with muscular dystrophy, to show their support. We realized that this ride was the beginning of something special and it continues today.
Although we have made format changes over the years, and changed the date to the last weekend in June, the ride is still as challenging and satisfying as the first.
Oh, the meaning of life… The eight of us who discovered it on that day have pledged not to tell anyone. You will have to ride and find that out for yourself!