2021 – Keegan & Sarah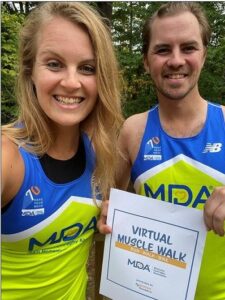 Keegan and his fiancé, Sarah, started their relationship on the seacoast of New Hampshire four years ago and currently live in Kittery, Maine. Keegan was diagnosed with Muscular Dystrophy in 2008, at the age of 18. Muscular Dystrophy was not new to the Kilroy family as Keegan's father, Tim, also has the disease.
When he was diagnosed, Keegan was a freestyle skier competing in events around the world. The disease ended Keegan's freestyle skiing career, however, he has found a new passion in the game of golf. When not working as an electrical engineer, Keegan can be found at the golf course. He is currently ranked 161st in the World Rankings for Golfers with Disabilities and competes in tournaments across the country.
Neuromuscular diseases are also not unfamiliar for Sarah. Her grandfather died from ALS when she was young. Years later, a family friend was also diagnosed and lost his battle with the same disease. She participated in fundraisers and awareness for ALS throughout college.
Sarah is a pediatric speech language pathologist in Maine and a registered yoga teacher. Working together, Sarah and Keegan have found ways to adapt different yoga positions and flows to allow Keegan's body to maintain flexibility and strength. Sarah's passion is in meeting people where they are and making connections with them so as to give them a safe place to grow and realize their potential.
Keegan and Sarah are certainly not in this alone as they have an awesome team with them and an unwaveringly supportive community. Keegan's sister, Dr. Elisabeth Kilroy, researches muscular dystrophy at Nationwide Children's Hospital in Columbus, Ohio. And when Keegan and Sarah built their house last year, it was designed for Keegan's dad to live with them. He is always offering insights to his experience of living with the disease and helps ease some of the worries of the unknown progression.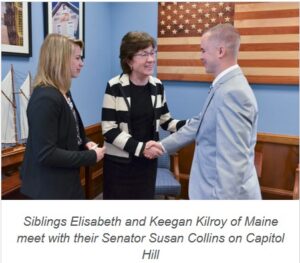 It has been their family, friends, and the community that have been the biggest help. From the telethon to shamrocks, from muscle walks to summer camp, from a helping hand to an ear to listen, friends and family have always been there.