2017 – Mallary Philibotte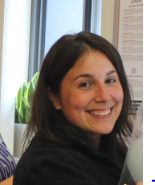 Mallary was diagnosed with Charcot Marie Tooth Disease when she was 8 years old. Her father, uncle, and grandmother all have CMT as well. Over the past 6 years the disease has progressed causing more weakening of the muscles in her legs and hands. She uses the aid of a cane to walk and uses her wheelchair for far distances as her body tires very easily. The progression of this disease has not slowed down her vigilance to spread awareness for CMT. She is motivated to continue to educate those around her about the disease and raise funds for the MDA in hopes to find a cure. Over the past 3 years, her team "Walk This Way" for the NH MDA Muscle walk has raised more than $25,000!!
Mallary works full time for a hotel development group where she has been for 11 years. She enjoys spending time with her family, especially at their family lake house kayaking and going on their jetski. Her husband Chris, daughter Emma, and son Noah have all been her strong support structure as she continues to progress.