2014 – David Shortlidge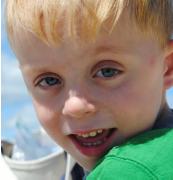 David is a happy, energetic and outgoing 5-year old from New Hampshire. David enjoys building with legos, playing outside and anything to do with firefighters. He has a 3-year old sister named Emaline.
In February 2012 David was diagnosed with Duchenne Muscular Dystrophy. This diagnosis has not stopped David from having fun and living life with his friends and family. His happiness and laughter are infectious to everyone around him.
David is the 2014 State Goodwill Ambassador.