2008 – Pete & Joe Lafferty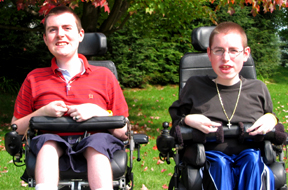 Pete and Joe Lafferty were diagnosed with Duchenne Muscular Dystrophy (DMD) at ages 3 and 1 respectively. DMD is a muscle wasting disease that primarily affects boys. All voluntary muscles and heart and breathing muscles are affected. Pete and Joe's weakness progressed to needing power wheelchairs, bi-pap breathing machines at night and to rely on their parents to take care of all of their daily needs.
Pete and Joe have taught so many people about living life to its fullest. They have taken hot air balloon rides, helicopter and plane trips, and logged lots of miles as they wheeled through the hallways of school and throughout their neighborhood while on family walks. Their faith and courage are such an inspiration to everyone they meet.
Pete graduated from Nashua High School in 2004 and was a member of the National Honor Society. Pete is currently 22 years old and tutors adults in the Nashua community as well as kids in the After School program. Joe graduated from Nashua High School North in 2006. Joe died in November, 2007 at age 20. Joe loved life and truly enjoyed spending time with his family and many wonderful friends.
It is an honor to have the 2008 Trans NH Bike Ride dedicated to Pete and Joe. This is such a great tribute to Pete and a lasting memory of Joe, who lives on in our hearts forever.