2005 – Pat Moeschen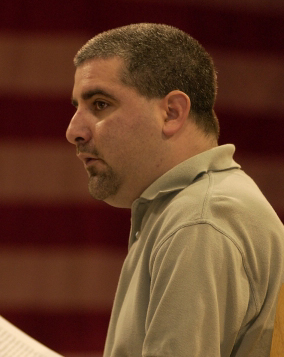 Patrick Moeschen is a full-time music teacher living in Salem, NH. Pat was diagnosed with Becker MD at the age of 12. Since then, Pat has maintained a more than active lifestyle in the throes of this very serious condition. A drummer since age 10, Pat decided to make music a career, and received a Bachelor in Music Education from UMass Lowell in 1995 (Magna Cum Laude). Upon finishing college, Pat began teaching middle school band, music appreciation, and jazz ensemble at the Woodbury Middle School, in Salem, where he is still currently employed. On top of his school teaching duties, Pat has a private home studio where he teaches drum lessons to 15 students a week of various ages. He has also worked with high school students in the capacity of drum-line and pit instructor in various northern MA and southern NH towns. When not teaching, Pat enjoys jamming with various local musicians, and since 2000 has been the percussionist for the annual Dracut High School Musical.
In addition to music, Pat enjoys traveling in the United States, where he has visited 11 major league baseball stadiums (his goal is all 30!). He also enjoys spending time with family, and friends — especially at his camp in Enfield, NH. In addition to volunteering for the MDA, where he serves as Vice President of the NH state MDA executive committee, Pat supports other charities such as Curt's Pitch for ALS, and Parent Project Muscular Dystrophy.
Currently, Pat is enrolled in graduate studies at Liberty University, in Lynchburg, Virginia, where he is pursuing a Master's degree in counseling through their distance-learning program.