2002 – Amanda Knightly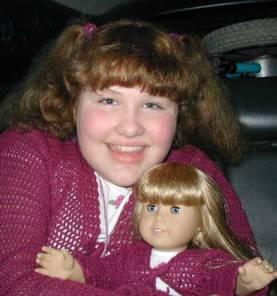 Amanda was diagnosed with Charcot-Marie-Tooth disease in 1991. Amanda has a progressed case of CMT and this "free-spirited" youngster needs a wheelchair for mobility.
Amanda lives in Hudson, NH with her parents, Michael and Mary, and her younger brother, Austin. Amanda is a "people person" and loves life. She loves socializing, singing, arts & crafts and animals – especially her Pomeranian dog, Foxy. She attends public school in Hudson where she excels in Art and Music.
Amanda has traveled extensively, the furthest trip being to England to visit her grandfather. She has been active in MDA fundraisers ever since her diagnosis at the age of 2 and she appeared in a local commercial spot for the 2001 NH MDA Telethon. She is motivated and excited to share her view that it's not what life hands her that is as important as what she does with her life.
After seeing the positive energy and enthusiasm of the Trans-NH Bike Ride participants at the finish line party in 2002, Amanda's dad, Michael, was inspired to participate in the 2003 ride.